CD Product FAQ
(See download version)

Send my testimonial
Useful Resources
Join Us
Angel Policy
About Us
Site Map
*******
Join email list
for your FREE Gift
& Craft template
+ plenty more
unique ideas!
*******
Testimonials
"... thank you so much.. I absolutely love the templates..."
- Linda Q. -
"Firstly, WOW great product!"
- Rowan A. (Australia) -
"I have bought the cd of all the templates with the guide book and the idea book. It's great! Thanks."
- Jeannie W. -
"I found your site while I was cruising through the net and really liked the ideas that you have on your site...I have tried a few of your ideas and they really work a treat. Keep up the good work. Cheers!"
- Kerryn McD. (Australia) -
"I am into craft and i love your 3d boxes...thanks agian..."
- Wans (India) -
"Hi Janlia, Thank You Very Much!!! I think your packages and ideas are GREAT. I am presently at Teacher's College (First Year) doing Early Childhood Education. I am also teacing in a pretrained capacity and I manage the school's resource center. Ideas you
offer are an asset as this experience is totally new to me...Continue what you are doing."
- Joan (Jamaica West Indies) -
"Hi! First, I have to tell you that I really like your product -- it's a great idea! I'm also on your mailing list for your newsletter and it's pretty good too. You've done a great job..."
- Chris Yates (U.S.)-
http://www.freekidcrafts.com
http://www.free-printables.com
Discover the SECRET to true love and appreciation...
Get the 'Seriously Fun 3D-Shaped Box Templates' collection CD today and learn valuable techniques on how to maximise your
gifts and craft projects with minimum effort and materials required.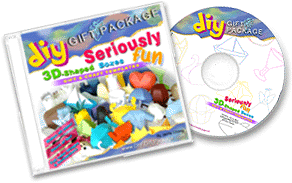 Package includes 38 unique high quality creative shape templates...


Hundreds of different and unlimited uses...


Full color illustrated...


Easy to follow instructions...


Fully printable and adjustable sizes...


Extra letter (8.5"x11") sized templates... NEW!! Now avail. on CD!


Difficulty Rating for extra convenience...


Versatile and economic, with tips and ideas...


SPECIAL BONUSES included


PC and Mac compatible
---
+ Receive MORE valuable tools worth more than $100
to complete your gift and craft kit for absolutely FREE: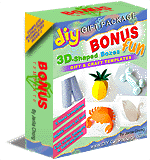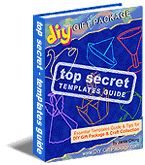 + Letter Sized Templates for Computer Crafting
Get 5 MORE Fun Shaped Templates
(worth $49.75+) FREE
Top Secret Ideas & Tips e-booklet
(worth $19.95) FREE
Top Secret Templates Guide e-book
(worth $12.95) FREE
Plus 40 Quality Full Color Clip-art images (worth $18.75+) FREE
Convenient Letter (8.5"x11") sized templates (worth $49.95+) FREE

** Total Bonuses value of $151.35 !! **
Get all these BONUS products with your purchase of the 'Seriously Fun 3D-Shaped Box Templates' CD:

5 More Fun Shaped Templates to add to your entire gift and craft collection. Inside includes full color illustrated instructions, ideas and tips. Bonus templates: Pineapple, Doggy Bone, Swan, Crab and Trousers. Perfect additions for even more festivity and hours of fun!

Plus, to get even more uses out of the templates, there are over 100 more innovative ideas and tips in the Top Secret Ideas & Tips eBooklet to help you maximise on your gifting or crafting experience. This pocket-sized handbook includes full-color photograph images and ideas for each individual template.

The Top Secret Templates Guide is an essential eBook manual to help your gifting and crafting fun a breeze. Inside are important points and tips on printing, kid crafting, recycling and other secrets. This guidebook alone will save you even more precious TIME and MONEY.

The collection package comes complete with 40 Full Color Clip-Art images. You can use these rich graphic illustrations to make complimentary stickers for your packages or create fun greeting cards! (For PC or MAC users.)

IDEA: Use these BONUS Clip-Art images to
match and enhance your template packages.
< ORDER My Gift & Craft Template CD >
SAVE yourself hundreds of dollars...
Testimonial
"These templates are great. Thank you!"
- Kay R. -
Other magazine subscriptions can cost you anything from $24.00 to $99.00 per year. And printed craft template books average around $9.95 per book!!
Not only are the 'Seriously Fun 3D-Shaped Box Templates' totally unique and different to others, they are very very economical!

Q. What age group/s are these templates designed for?
A. Most ages! All templates have a Difficulty Rating to help you determine whether it's suitable for your use. Most templates are user friendly and can be made easily by younger children with supervision by an adult recommended for higher levels.

Q. Are these templates just for gift packaging?
A. Not at all, the templates can be used for just about anything. You can achieve different sizes and different thicknesses for your own purposes. They also make great craft projects! It's up to your imagination. (For more exclusive ideas, subscribe now to receive the FREE Ideas emails.)

Q. What do I need to make these templates?
A. General things you will need are: printer, regular paper, scissors or craft-knife, adhesive and paperboard of your choice. Each template also comes with individual tips and suggestions.

Q. What are my payment options?
A. We accept Visa, Mastercard, American Express, Discover and Check cards. We also accept checks and money orders. Simply follow the prompt and instructions when you place the order.

Q. When and how are my templates delivered?
A. As soon as your order has been successfully processed with CafePress, you will receive a confirmation email and notification of when your CD has been shipped. Items will ship within 2-3 business days with standard shipping. You can also order by expedited method which ships the next business day.

Q. What computer or program/s do I need to use the templates?
A. The templates are designed for both PCs or MACs and the only software you will need is Acrobat Reader which is FREE and most people should already have it. Please email with any computer platform enquiries to info@diygiftpackage.com.

(If you do not have Acrobat Reader on
your computer click here to get a free copy.)



Q. Is there a refund policy?
A. A 100% 30 day refund guarantee applies for any unopened CDs and an exchange for another of the same title on any opened goods.
Join the emailing list for your FREE Gift & Craft template
with plenty more unique ideas!
Remember, you must purchase by
** Sunday 14th March 2004 ** to receive your:
Total 38 professionally designed Fun Templates

Your essential eGuidebook (a MUST-have),

Ideas and Tips eBooklet and

Full-color Clip-Art images

Convenient Letter (8.5"x11") sized templates
Entire package worth $349.00

For only $47.95+p/h
The Collection is jamm-packed with fun templates, including:
Angel

Umbrella

Baby Bottle

Watermelon

Aeroplane
Cupcake
Sail Boat
Cocktail Glass...

PLUS ...

SuperBall,
Bon-bon,
Baseball Cap,
Cappuccino,
Sports Car,
Castle,
Crown,
Cracking Egg,
Fish,
Flower Box,
Handbag,
SweetHeart,
Octopus,

Penguin,
Seashell,
Shirt,
Cinderella Shoe,
Snowman,
Star Box,
Super-Star,
Teddy Bear,
Steam Train,
Tree,
Truck,
Turtle,
AND Bonus Templates*!


Click here to view a template sample.
< ORDER My Gift & Craft Template CD >
Don't forget, all templates can be used more than once, or twice...You get multiple sizes and uses out of each template, just by printing as many as you need!
ATTENTION
:
Click here
to apply for a
License and Angel Policy agreement
to sell your finished handmade products using DIY Gift Package designs, patterns and templates at school and craft fairs. If you do not submit a request form, you will NOT be allowed to sell any finished products you have used with DIY Gift Package products.

© Copyright 2003. Qualistyle Pty Ltd and Janlia Chong. All Rights Reserved for all logos, trademarks, pictures and templates. Any use, copying, or reproduction of the logos, trademarks, pictures, templates and contents
contained within this site without prior written permission by its owners is strictly prohibited.
Gift Shop Top 100, Vote For Us
Gift and Collectibles Top 100, Vote For Us