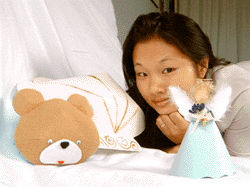 About the creator...
Janlia is the designer and owner of the unique DIY Gift Package fun shape templates. She has a love for creative gift packaging and unique paper crafting ideas ever since she was a little girl. So Janlia has combined her two passions to create these beautiful box templates for others around the world to enjoy!
Janlia has a background in graphic design and every template in the collection has been designed with close attention to detail. Many tested prototypes were made to achieve the high quality results.
Since the launch of DIY Gift Package.com in 2002, Janlia has received many different requests for other crafting projects which she aims to share with other through PrintablePassions.com .
Happy Gifting and Crafting!

DIY Gift Package is a member of the Hobby Industry Association (HIA).



Home / Product FAQ / Useful Resources / Join Us / Site Map

info@diygiftpackage.com

© Copyright 2003. Qualistyle Pty Ltd and Janlia Chong. All Rights Reserved for all logos, trademarks, pictures and templates. Any use, copying, or reproduction of the logos, trademarks, pictures, templates and contents
contained within this site without prior written permission by its owners is strictly prohibited.